Stain & Finishing Oil All in One Wood Finish is Eco Friendly and easy to use.  This stain & top coat combo offers exceptional durability in high traffic areas like table tops, kitchen cabinets and even flooring. 
It can be used on bare wood, or over previously painted surfaces for a faux effect. Use the Natural color over Fusion Mineral Paint colors to increase the sheen and offer superior durability.
This Stain and Finishing Oil All in One is your go-to solution to bare wood to show off the grain, yet change the color to your desire. It comes in 6 gorgeous colors.
Very easy to use, low odor and Eco Friendly! Apply it with a brush, or rag, and wipe away the excess.
With a combination of natural oils and resins that penetrate into the wood fibers to create a durable, scratch resistant and waterproof finish. It does not leave a surface film that sits on top, rather it soaks in and becomes part of your wood. It is ideal for wooden table tops as it has excellent resistance to abrasions and can be washed over and over again!
This is a highly concentrated oil blend so a little will go a long way!
This container will cover what 1 Litre of comparable stains do on the market giving you 2 to 3 times more coverage than any water-based stains.
Our Stain & Finishing Oil is composed of plant products, Safflower oil, Tung oil, Linseed oil, Vegetable wax, safe odorless mineral solvent and cobalt free siccative which means effective drying without toxic cobalt dryers while being low odor in comparison to traditional solvent-based stains.
Learn more from Fusions™ Blog
FUSION™ MINERAL PAINT IS A PROFESSIONAL PAINT FOR THE EVERYDAY DIY'ER.
With exceptional ease of application, Zero VOC formulation with high hiding coverage and a built-in topcoat, it's easy to Paint it Beautiful with Fusion™ Mineral Paint! With over 50 gorgeous colors to choose from, you can tackle any project small or large!
Go from inspired to admired in a few hours. Add color, reinvent and enjoy your time to create. Live with things you love and DIY the rest. Pick your project, bring home a pot of mineral inspiration, and Paint it Beautiful!
Zero VOC
Minimal prep work
Easy application
Exceptional coverage
Gorgeous matte finish
No topcoat required
For busy-DIYers, Fusion™ Mineral Paint is the only choice for exceptional color, coverage, and durability. Unlike our competitors, we create our paint from the pigments up and formulate it for lasting results. Our customers return again and again because Fusion™ Mineral Paint is supported by a knowledgeable retail network, that when paired with our product line, makes it easy to Paint it Beautiful!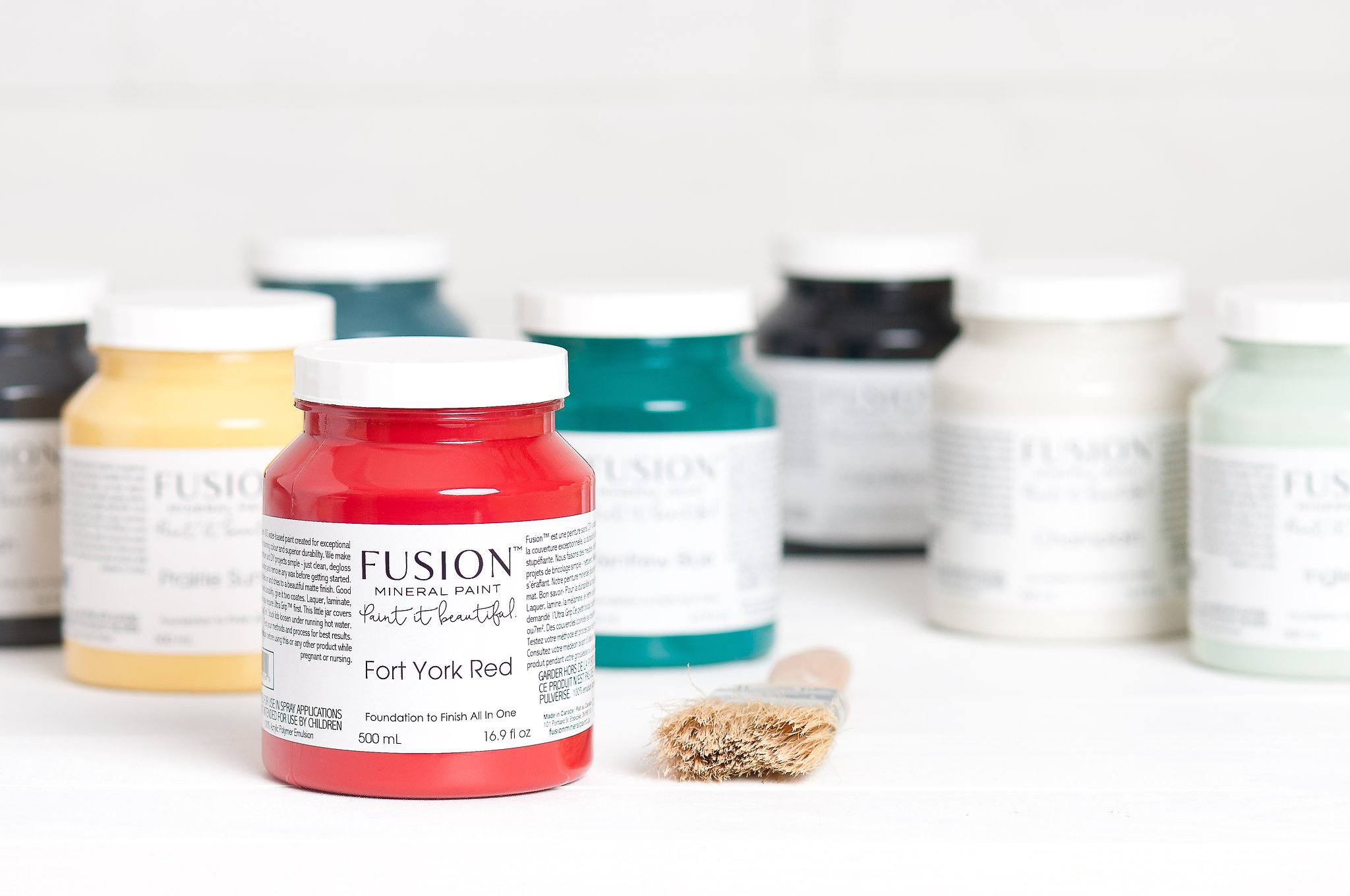 QUALITY CONTROL AT IT'S FINEST
Each batch goes through rigorous quality control, ensuring that the paint will not separate or harden in the container for 7 years. We are able to achieve this by using only the best available ingredients on the market. Our formulation is 100% uniquely ours, formulated from the ground up. You will not be able to find a duplicate on the market that compares!
Fusion™ colors are non-toxic, lead-free, virtually odorless and have no volatile organic compounds (VOC) and contain no ammonia or formaldehyde.
For more info on Fusion Mineral Paint visit Fusionmineralpaint.com
For inspiration and to have questions answered from your fellow DIY Fusion community check out Fusions Paint it Beautiful Facebook Group!
If that wasn't enough to get you going fusion has a wonderful YouTube channel full of amazing video tutorials to help you "Paint it Beautiful"
Additional information
| | |
| --- | --- |
| Weight | .5 lbs |
| Dimensions | 13 × 13 × 1 in |
| Color | Golden Pine, Natural, White, Driftwood, Ebony, Cappucino |
Shipping
Sign Processing Time: Due to the custom nature of this business please allow 7-10 business days (Monday-Friday) for your sign to be completed. Please note this does not include shipping time. Shipping typically takes an additional 2-3 business days. If processing time is extended for any reason, this will be noted at the top of our home page.
Fusion Mineral Paint Processing Time: Please allow 3-5 business days for your order to be boxed and shipped out. Please note if you order a sign with your paint order, we will follow the sign processing time and ship all items together.
Shipping: All of our signs are carefully packaged and shipped through USPS priority mail and generally take 2-3 business days, depending on where you are located. Please ensure that your shipping address is correct. We are not responsible for undelivered or misdelivered packages.
Returns
Returns: Due to the custom nature of our signs we are unable to accept returns. If you are not satisfied with your sign for any reason, please contact us immediately so we can work with you to help address any concerns you might have. Returns are not accepted on Fusion Mineral Paint Products or Painting accessories at this time.
Cancellations: If you need to cancel your order for any reason, this must be done within 24 hours of the order being placed. All orders canceled after 24 hours will be given store credit only if the item has not shipped yet. If your order is custom, no credit will be given for cancellations.