This all-natural Hemp Oil Wood Finish is very easy to apply. Simply pour or brush on and wipe away the excess with a rag.
Food Safe
No Chemicals
No additives or preservatives
NO VOC's
Biodegradable
100% Natural Hemp seeds
This oil is great for those that suffer from chemical sensitivities and cannot use solvent-based products. The odor of this oil is much like crushed walnuts. This oil is a great environmentally friendly locally produced product with no additives or preservatives.
This is different than the oil in the health food stores only insofar as we have put the oil through a process which allows the oil to completely dry on its own, without the use of added chemicals or dryers.
This oil will darken and richen the wood with a soft luster. Generally the older the wood, the more it will darken it. This will vary based on the type of wood and the age of the wood. It is highly recommended to try a small amount on an area to find out how your project will look with this application.
Used inside, this food-safe oil finish is perfect to use in the kitchen on wooden cutting boards, wooden utensils or stone. It also provides a wonderful finish for flooring.
It penetrates to protect from the inside out. This oil does not leave a surface film that will chip or scratch.
The oil will feel dry to the touch one day after the initial application, however complete drying can be several days. For example, if there is too much oil initially applied, then small amounts of oil may rise over the first few days. This can be avoided by wiping the excess away with a cloth. If used on a floor during this time it is recommended to place some cardboard pieces where there will be a lot of foot traffic. Dirty shoes should be kept off for at least two weeks.
COVERAGE:
500 ml – Covers approximately 80 square feet
Coverage will vary taking into consideration what the oil is being applied to. For example, a previously oiled surface will require very little oil, whereas bare wood will require more.
Learn more from Fusion™ YouTube Tutorial
FUSION™ MINERAL PAINT IS A PROFESSIONAL PAINT FOR THE EVERYDAY DIY'ER.
With exceptional ease of application, Zero VOC formulation with high hiding coverage and a built-in topcoat, it's easy to Paint it Beautiful with Fusion™ Mineral Paint! With over 50 gorgeous colors to choose from, you can tackle any project small or large!
Go from inspired to admired in a few hours. Add color, reinvent and enjoy your time to create. Live with things you love and DIY the rest. Pick your project, bring home a pot of mineral inspiration, and Paint it Beautiful!
Zero VOC
Minimal prep work
Easy application
Exceptional coverage
Gorgeous matte finish
No topcoat required
For busy-DIYers, Fusion™ Mineral Paint is the only choice for exceptional color, coverage, and durability. Unlike our competitors, we create our paint from the pigments up and formulate it for lasting results. Our customers return again and again because Fusion™ Mineral Paint is supported by a knowledgeable retail network, that when paired with our product line, makes it easy to Paint it Beautiful!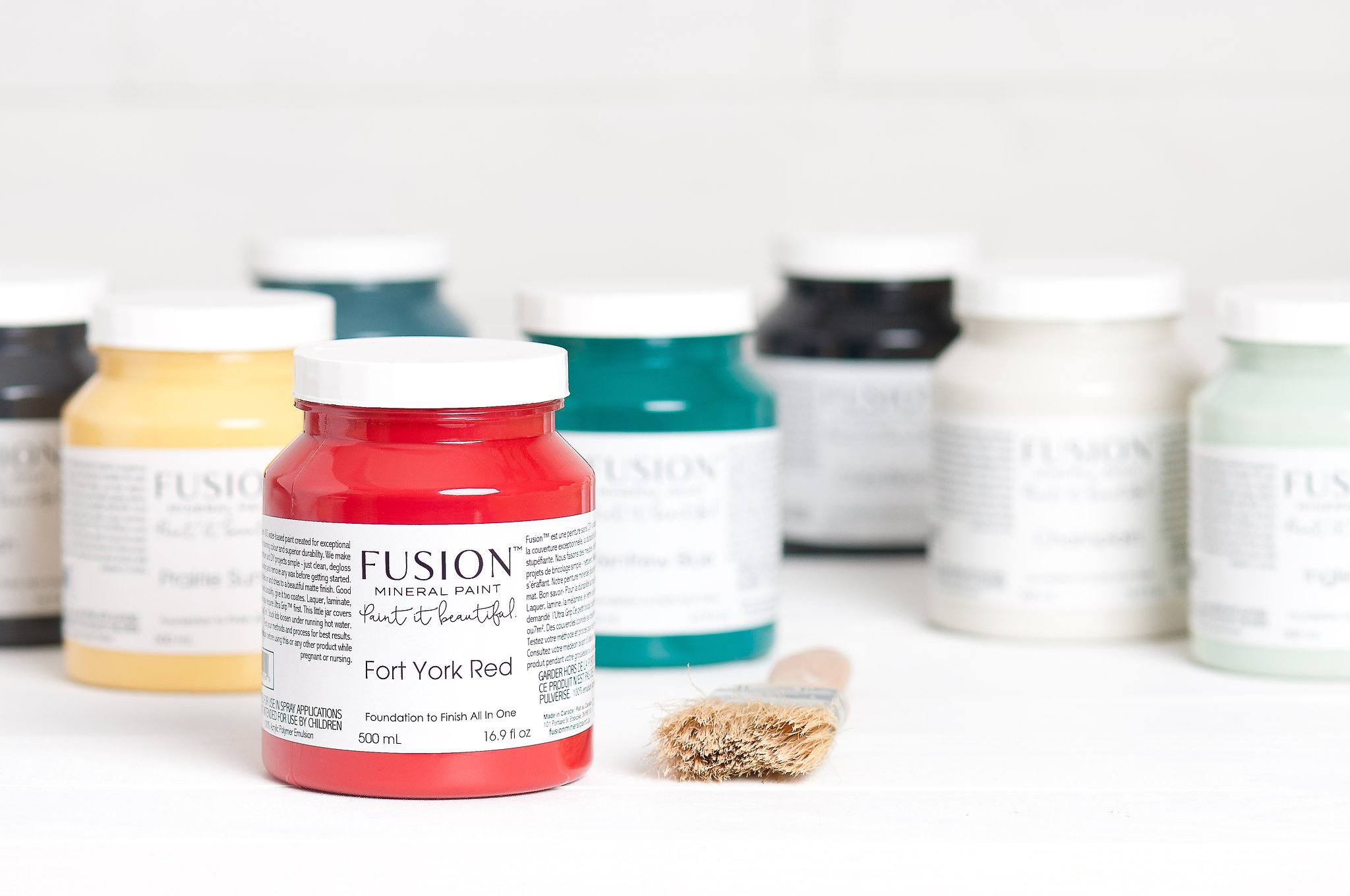 QUALITY CONTROL AT IT'S FINEST
Each batch goes through rigorous quality control, ensuring that the paint will not separate or harden in the container for 7 years. We are able to achieve this by using only the best available ingredients on the market. Our formulation is 100% uniquely ours, formulated from the ground up. You will not be able to find a duplicate on the market that compares!
Fusion™ colors are non-toxic, lead-free, virtually odorless and have no volatile organic compounds (VOC) and contain no ammonia or formaldehyde.
For more info on Fusion Mineral Paint visit Fusionmineralpaint.com
For inspiration and to have questions answered from your fellow DIY Fusion community check out Fusions Paint it Beautiful Facebook Group!
If that wasn't enough to get you going fusion has a wonderful YouTube channel full of amazing video tutorials to help you "Paint it Beautiful"
Additional information
| | |
| --- | --- |
| Weight | 1.75 lbs |
| Dimensions | 7 × 7 × 5.5 in |
| Color | Antiquing, Clear |
Shipping
Sign Processing Time: Due to the custom nature of this business please allow 7-10 business days (Monday-Friday) for your sign to be completed. Please note this does not include shipping time. Shipping typically takes an additional 2-3 business days. If processing time is extended for any reason, this will be noted at the top of our home page.
Fusion Mineral Paint Processing Time: Please allow 3-5 business days for your order to be boxed and shipped out. Please note if you order a sign with your paint order, we will follow the sign processing time and ship all items together.
Shipping: All of our signs are carefully packaged and shipped through USPS priority mail and generally take 2-3 business days, depending on where you are located. Please ensure that your shipping address is correct. We are not responsible for undelivered or misdelivered packages.
Returns
Returns: Due to the custom nature of our signs we are unable to accept returns. If you are not satisfied with your sign for any reason, please contact us immediately so we can work with you to help address any concerns you might have. Returns are not accepted on Fusion Mineral Paint Products or Painting accessories at this time.
Cancellations: If you need to cancel your order for any reason, this must be done within 24 hours of the order being placed. All orders canceled after 24 hours will be given store credit only if the item has not shipped yet. If your order is custom, no credit will be given for cancellations.